Bluetooh LE solutions for E46 M3
With the introduction of the Bluetooth Low Energy (BLE) and later the Bluetooth 5 specification, the Bluetooth technology has emerged as an interesting technology to be used within trackday racing. The solution for streaming CAN data to Harry's Lap Timer, proved to be so promising that it was decided to test the concept further by streaming of Brake Disc Temperature measurements over BLE.
The BLE solutions on this site are custom built around the high performing Rigado BMD-series for the Nordic nRF52 SoCs and the Nordic SoftDevice software stack. Hence, all solutions are not only Bluetooth 4.x compliant, but automatically Bluetooth 5 compliant, with all the advantages it implies over the old Bluetooth 4.x.
CAN data to Harry's Lap Timer over BLE
The experience from the development of streaming CAN data over BLE to Harry's Lap Timer, proved that there were no problems streaming data at 100Hz to a capable BLE device. Streaming data to Harry's Lap timer at 100Hz for video overlay, is a bit overkill, and the data stream was constrained to 25Hz for fast data, 1Hz for the slow (like temperatures) and 10Hz for GPS data. Anyway, our BLE solution outperforms any Bluetooth OBDII/ELM327 solution for the E46 M3. The solution works for iOS as well as for Android with Harry's Lap Timer v23.x.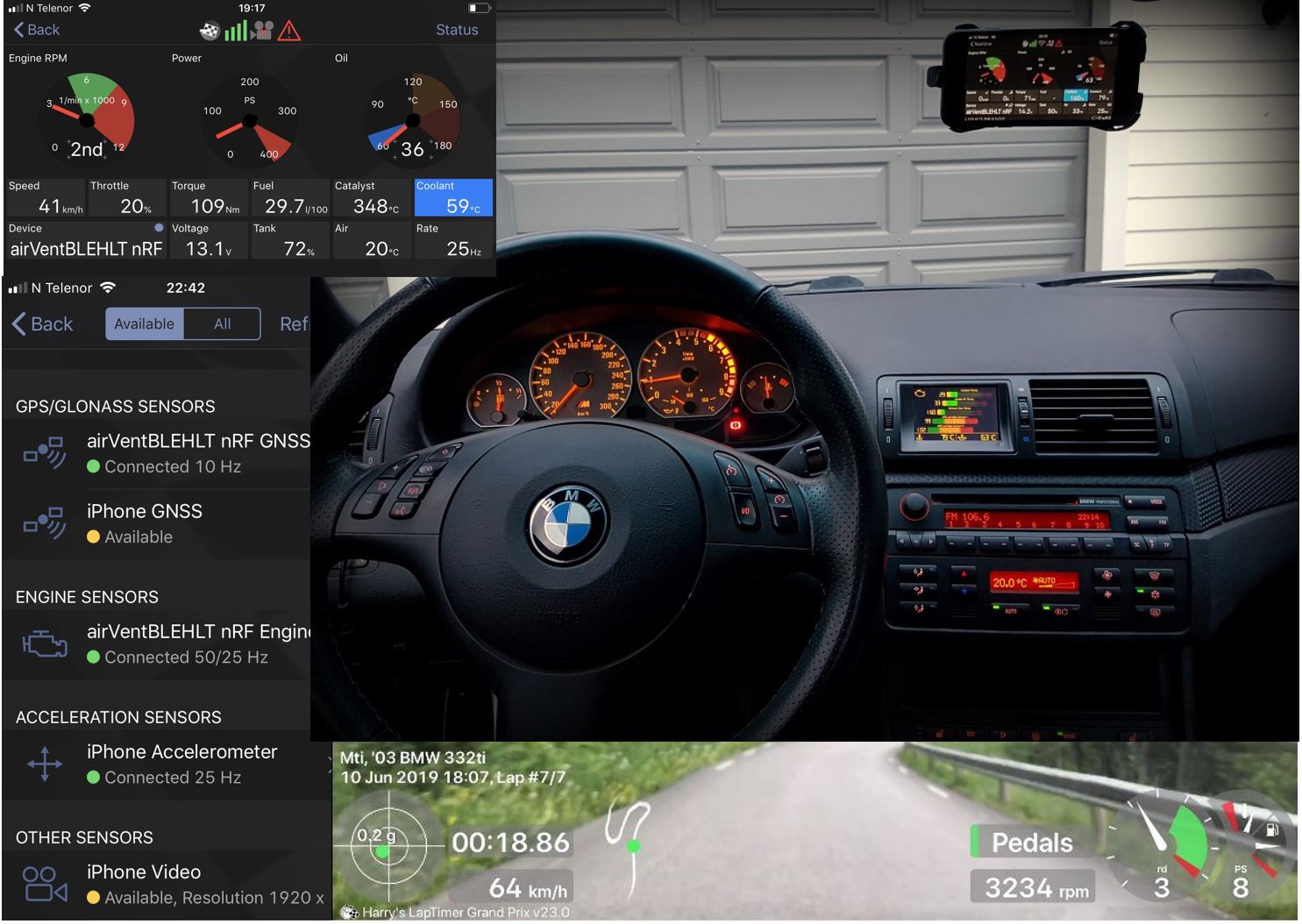 Brake Disc Temperatures over BLE
While a solution for Brake Disc Temperatures over CAN was availabe, the opportunity to transmit the Brake Disc Temperatures over BLE had to be explored. The most important reason why is that for each sensor, one avoids extending the CAN bus to the harsh environment experienced close to the brake calipers and discs. Also the powering can be done quite simple. Only two wires (+12V and GND) is required, or one can omit 12V completely by using a battery. The power supply requirements are very flexible, demanding minium 2.7V and maximum 15V. With a current consumption of only ~10mA when measuring, many track hours can be expected from e.g. powering the sensor from a small 500mAh battery (~50h). Default the Brake Disc Temperatures are streamed over BLE at 50Hz. Max streaming frequency is determined by the BLE specification to 133Hz.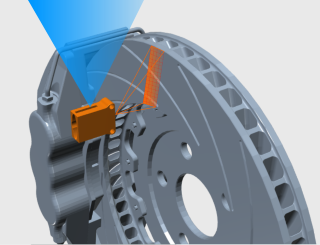 BLE to CAN Gateway
Streaming of data over BLE, means that there has to be "something" receiving the data. A BLE to CAN gateway is developed, which receives the BLE data from the Brake Disc Temperature devices and retransmits them onto the CAN bus. By this it is possible to utilize the Brake Disc Temperatures in the airVentDisplay, as well as stream them for data logging and later analysis. If Harry's Lap Timer should get support for brake disc temperatures, they can easily be streamed over BLE to Harry's Lap Timer.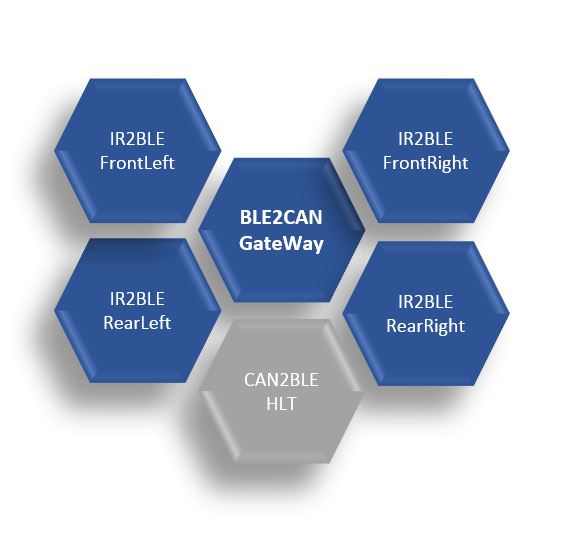 Damper Displacement Estimation over BLE (in development)
The Brake Disc Temperature sensor can be equipped with a MEMS sensor, measuring acceleration and rotational velocity. By combining these data with a Time-of-Flight (ToF) laser sensor added to the damper for displacement measurements, estimates of the damper displacement can be done. The MEMS data and ToF data are not only inaccurate and noisy, but do also require quite different sampling frequencies. To deal with the accuracy and noise challenges as well as the different sampling frequencies, a Kalmanfilter is implemented locally on the nRF SoC (Edge Computing). The Kalmanfilter contains a digital twin of the relationship between displacement, velocity and acceleration, and is tuned to the tolerance of the MEMS and ToF sensors to produce estimates within 2mm tolerance of the damper displacement. The estimated damper displacement is of course streamed over BLE (default 50Hz).
Figure 1: Simulation results from a system with progressive springs and critical damping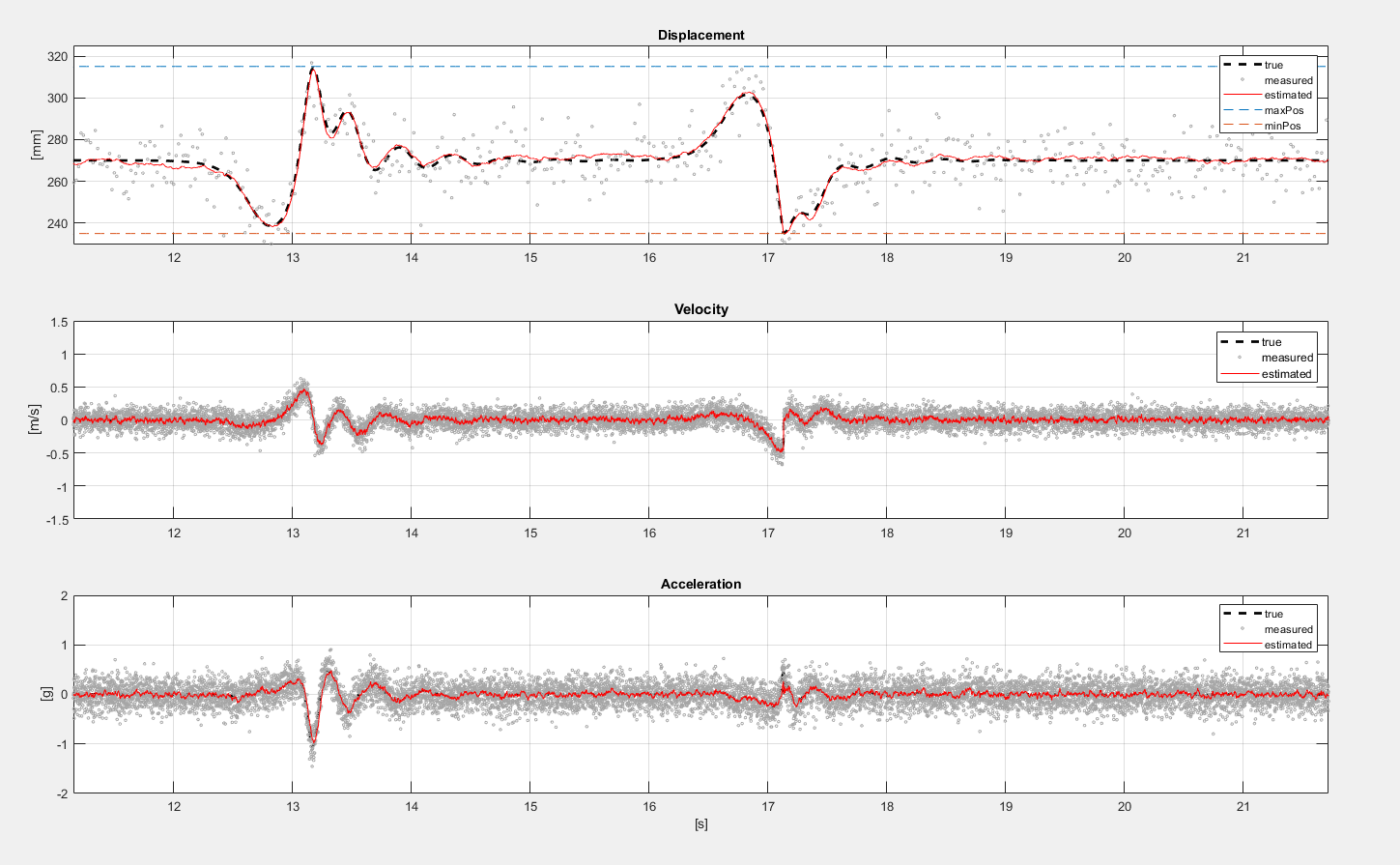 Figure 2: Simulation results from a system with progressive springs and less-than-critical damping (underdamped)
Implementing a Kalmanfilter on the nRF52 SoC
The results of damper displacement estimation indicated promising results in a simulated environment. A critical moment of truth was wether or not the nRF52 SoC was able to run the computationally costly Kalmanfilter, together with the rest of the tasks implemented. The computation of the IR temperatures for the Brake Discs are by them selves quite computationally demanding, using the full 4th order and power of 1/4 equations without table lookup.
Another critical factor was to find a good matrix library well suited for embedded systems, i.e. a library not using malloc(). It turned out that the excellent embedded version of Lapack, EmbeddedLapack by Daniel Martensson, had all the matrix library functions needed to implement a well performing Kalmanfilter. The tests revealed that the nRF52 SoC had no problems running the custom designed Kalmanfilter, together with the rest of the tasks loaded onto this tiny system.
Right of withdrawal
You have the right to withdraw from this contract within 14 days without giving any reason.
The withdrawal period will expire after 14 days from the day on which you acquire, or a third party other than the carrier and indicated by you acquires, physical possession of the goods.
To exercise the right of withdrawal, you must inform us (see imprint) of your decision to withdraw from this contract by an unequivocal statement (e.g. a letter sent by post, fax or e-mail). You may use the attached model withdrawal form, but it is not obligatory.
To meet the withdrawal deadline, it is sufficient for you to send your communication concerning your exercise of the right of withdrawal before the withdrawal period has expired.
Effects of withdrawal
If you withdraw from this contract, we shall reimburse to you all payments received from you, including the costs of delivery (with the exception of the supplementary costs resulting from your choice of a type of delivery other than the least expensive type of standard delivery offered by us), without undue delay and in any event not later than 14 days from the day on which we are informed about your decision to withdraw from this contract.
We will carry out such reimbursement using the same means of payment as you used for the initial transaction, unless you have expressly agreed otherwise; in any event, you will not incur any fees as a result of such reimbursement.
We may withhold reimbursement until we have received the goods back or you have supplied evidence of having sent back the goods, whichever is the earliest.
You shall send back the goods or hand them over to us, without undue delay and in any event not later than 14 days from the day on which you communicate your withdrawal from this contract to us. The deadline is met if you send back the goods before the period of 14 days has expired.
You will have to bear the direct cost of returning the goods. You are only liable for any diminished value of the goods resulting from the handling other than what is necessary to establish the nature, characteristics and functioning of the goods. 
Details

Written by

Super User

Category: Product Descriptions
Hits: 31215
airVentDisplay by racing-IOT emerged as a result from a pure enthusiast driven project, based on the need for displaying and logging data from the E46 CAN bus for track day events.
This site gives you an overview of some specially developed parts for the BMW E46.
All parts listed are intended for use in a BMW E46 vehicles ONLY. The parts are Not DOT-approved, homologated or approved street legal and may adversely affect the original manufacturer's limited warranty on the vehicle. Installation of the parts on a vehicle may render it nonstreet legal.
THE PRODUCTS OFFERED ON THIS SITE MAY BE USED SOLELY ON VEHICLES WHICH MAY NEVER BE USED UPON A PUBLIC ROAD OR HIGHWAY. IT IS THE RESPONSIBILITY OF THE INSTALLER AND/OR USER OF THIS PRODUCT TO ENSURE THAT IT IS USED IN COMPLIANCE WITH ALL APPLICABLE LAWS AND REGULATIONS.
PURCHASERS ARE SOLELY RESPONSIBLE FOR ALL RISKS ASSOCIATED WITH INSTALLATION AND USE OF THE PARTS. airVentDisplay AND THEIR RESPECTIVE SUBSIDIARIES AND AFFILIATES MAKE NO WARRANTY, EXPRESS OR IMPLIED, INCLUDING ANY IMPLIED WARRANTY OF MERCHANTABILITY OR FITNESS FOR A PARTICULAR PURPOSE WITH REGARDS TO THE PARTS LISTED IN THIS CATALOG.
airVentDisplay by racing-IOT ENTITIES DISCLAIM ANY AND ALL LIABILITY (INCLUDING BUT NOT LIMITED TO INDIRECT, SPECIAL, INCIDENTAL OR CONSEQUENTIAL DAMAGES) RESULTING FROM PURCHASERS AND THEIR AGENT OR ASSIGNS' INSTALLATION AND USE OF THE PARTS ON THIS SITE.
IF THIS PRODUCT WAS PURCHASED IN ERROR, DO NOT INSTALL AND/OR USE IT. THE PURCHASER MUST ARRANGE TO RETURN THE PRODUCT FOR A FULL REFUND. THIS POLICY ONLY APPLIES TO INSTALLERS AND/OR USERS WHO ARE LOCATED IN NORWAY. HOWEVER, CUSTOMERS WHO RESIDE IN OTHER COUNTRIES SHOULD ACT IN ACCORDANCE WITH THEIR LOCAL LAWS AND REGULATIONS.
Claims for parts damaged during shipping should be made pursuant to the terms of the purchase order.
Please select your parts carefully before finalizing your purchase.
This privacy policy has been compiled to better serve those who are concerned with how their 'Personally Identifiable Information' (PII) is being used online. PII, as described in US privacy law and information security, is information that can be used on its own or with other information to identify, contact, or locate a single person, or to identify an individual in context. Please read our privacy policy carefully to get a clear understanding of how we collect, use, protect or otherwise handle your Personally Identifiable Information in accordance with our website.
What personal information do we collect from the people that visit our blog, website or app?
When ordering or registering on our site, as appropriate, you may be asked to enter your name, email address, mailing address, phone number or other details to help you with your experience.
When do we collect information?
We collect information from you when you place an order, Open a Support Ticket or enter information on our site.
How do we use your information?
We may use the information we collect from you when you register, make a purchase, sign up for our newsletter, respond to a survey or marketing communication, surf the website, or use certain other site features in the following ways:
To quickly process your transactions.
How do we protect your information?
Our website is scanned on a regular basis for security holes and known vulnerabilities in order to make your visit to our site as safe as possible.
We use regular Malware Scanning.
Your personal information is contained behind secured networks and is only accessible by a limited number of persons who have special access rights to such systems, and are required to keep the information confidential.
In addition, all sensitive/credit information you supply is encrypted via Secure Socket Layer (SSL) technology.
We implement a variety of security measures when a user places an order to maintain the safety of your personal information.
All transactions are processed through a gateway provider and are not stored or processed on our servers.
Do we use 'cookies'?
Yes.
Cookies are small files that a site or its service provider transfers to your computer's hard drive through your Web browser (if you allow) that enables the site's or service provider's systems to recognize your browser and capture and remember certain information. For instance, we use cookies to help us remember and process the items in your shopping cart. They are also used to help us understand your preferences based on previous or current site activity, which enables us to provide you with improved services. We also use cookies to help us compile aggregate data about site traffic and site interaction so that we can offer better site experiences and tools in the future.
We use cookies to:
Help remember and process the items in the shopping cart.
You can choose to have your computer warn you each time a cookie is being sent, or you can choose to turn off all cookies. You do this through your browser settings. Since browser is a little different, look at your browser's Help Menu to learn the correct way to modify your cookies.
If users disable cookies in their browser: If you turn cookies off, Some of the features that make your site experience more efficient may not function properly. Some of the features that make your site experience more efficient and may not function properly.
Third-party disclosure
We do not sell, trade, or otherwise transfer to outside parties your Personally Identifiable Information unless we provide users with advance notice. This does not include website hosting partners and other parties who assist us in operating our website, conducting our business, or serving our users, so long as those parties agree to keep this information confidential. We may also release information when it's release is appropriate to comply with the law, enforce our site policies, or protect ours or others' rights, property or safety.
However, non-personally identifiable visitor information may be provided to other parties for marketing, advertising, or other uses.

Third-party links
Occasionally, at our discretion, we may include or offer third-party products or services on our website. These third-party sites have separate and independent privacy policies. We therefore have no responsibility or liability for the content and activities of these linked sites. Nonetheless, we seek to protect the integrity of our site and welcome any feedback about these sites.
Google
Google's advertising requirements can be summed up by Google's Advertising Principles. They are put in place to provide a positive experience for users. https://support.google.com/adwordspolicy/answer/1316548?hl=en

We use Google AdSense Advertising on our website.

Google, as a third-party vendor, uses cookies to serve ads on our site. Google's use of the DART cookie enables it to serve ads to our users based on previous visits to our site and other sites on the Internet. Users may opt-out of the use of the DART cookie by visiting the Google Ad and Content Network privacy policy.

We have implemented the following:
We, along with third-party vendors such as Google use first-party cookies (such as the Google Analytics cookies) and third-party cookies (such as the DoubleClick cookie) or other third-party identifiers together to compile data regarding user interactions with ad impressions and other ad service functions as they relate to our website.

Opting out:
Users can set preferences for how Google advertises to you using the Google Ad Settings page. Alternatively, you can opt out by visiting the Network Advertising Initiative Opt Out page or by using the Google Analytics Opt Out Browser add on.
California Online Privacy Protection Act
CalOPPA is the first state law in the nation to require commercial websites and online services to post a privacy policy. The law's reach stretches well beyond California to require any person or company in the United States (and conceivably the world) that operates websites collecting Personally Identifiable Information from California consumers to post a conspicuous privacy policy on its website stating exactly the information being collected and those individuals or companies with whom it is being shared. - See more at: http://consumercal.org/california-online-privacy-protection-act-caloppa/#sthash.0FdRbT51.dpuf

According to CalOPPA, we agree to the following:
Users can visit our site anonymously.
Once this privacy policy is created, we will add a link to it on our home page or as a minimum, on the first significant page after entering our website.
Our Privacy Policy link includes the word 'Privacy' and can easily be found on the page specified above.
You will be notified of any Privacy Policy changes:
      • On our Privacy Policy Page
Can change your personal information:
      • By logging in to your account

How does our site handle Do Not Track signals?
We honor Do Not Track signals and Do Not Track, plant cookies, or use advertising when a Do Not Track (DNT) browser mechanism is in place.
Does our site allow third-party behavioral tracking?
It's also important to note that we do not allow third-party behavioral tracking
COPPA (Children Online Privacy Protection Act)
When it comes to the collection of personal information from children under the age of 13 years old, the Children's Online Privacy Protection Act (COPPA) puts parents in control. The Federal Trade Commission, United States' consumer protection agency, enforces the COPPA Rule, which spells out what operators of websites and online services must do to protect children's privacy and safety online.

We do not specifically market to children under the age of 13 years old.
Do we let third-parties, including ad networks or plug-ins collect PII from children under 13?Fair Information Practices
The Fair Information Practices Principles form the backbone of privacy law in the United States and the concepts they include have played a significant role in the development of data protection laws around the globe. Understanding the Fair Information Practice Principles and how they should be implemented is critical to comply with the various privacy laws that protect personal information.

In order to be in line with Fair Information Practices we will take the following responsive action, should a data breach occur:
We will notify you via email
      • Within 1 business day
We also agree to the Individual Redress Principle which requires that individuals have the right to legally pursue enforceable rights against data collectors and processors who fail to adhere to the law. This principle requires not only that individuals have enforceable rights against data users, but also that individuals have recourse to courts or government agencies to investigate and/or prosecute non-compliance by data processors.